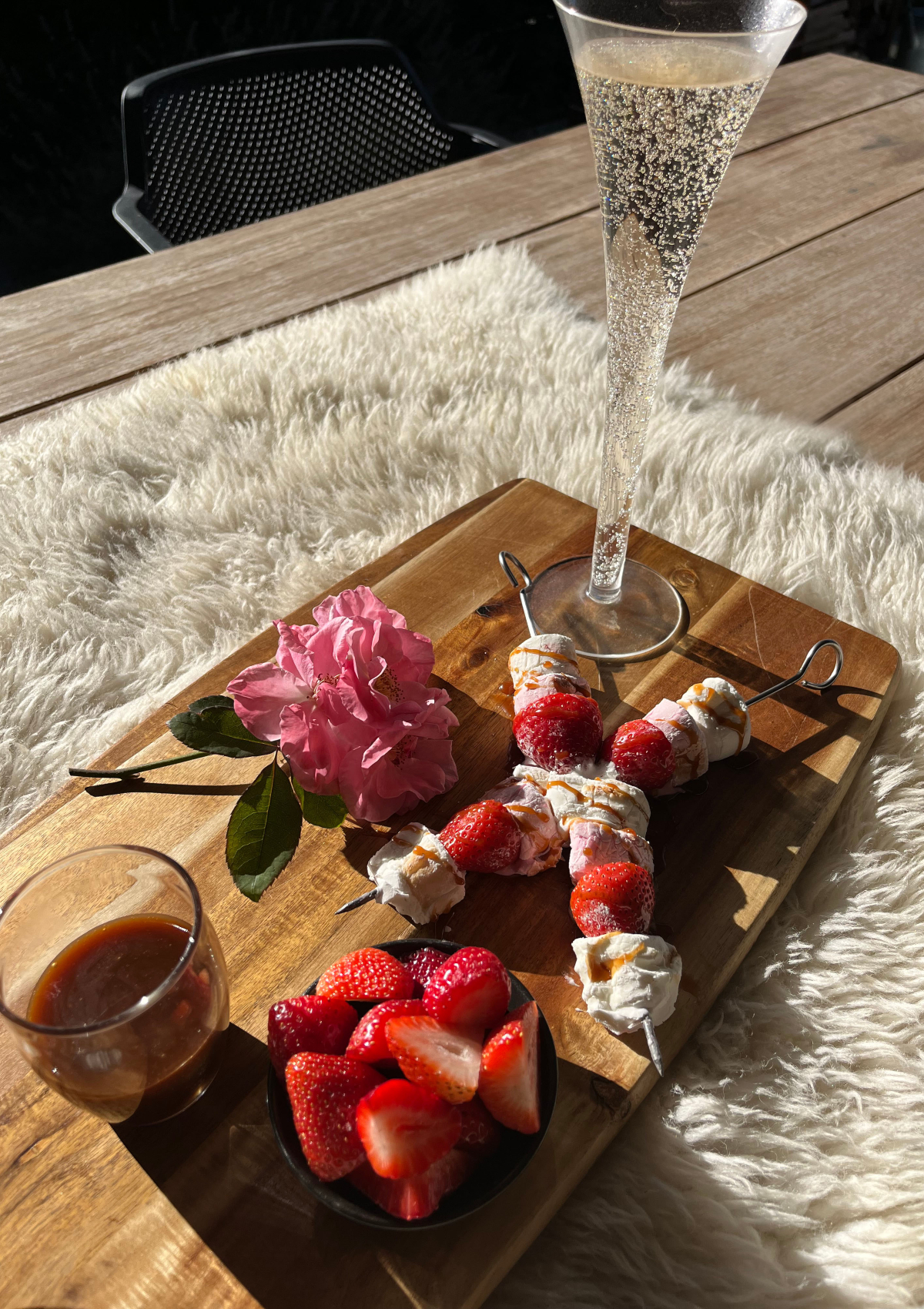 Strawberry Mallow Sticks with Gooey Caramel Drizzle
Ingredients
Gooey Caramel Sauce
1 1/4 cups of white sugar
1/2 cup of water
1/2 teaspoon of salt
1 cup of Cream
Strawberry Mallow sticks
4-6 Strawberries - hulled
10 Mashmallows
Method
Gooey Caramel Sauce:
Place sugar and water into a large saucepan and place onto stovetop. Heat at medium to high, stiring with a fork continually until boiling. Once boiling, reduce to a simmer (no need to stir at this stage), keeping a close eye on the carmelisation. Swirling the saucepan to allow for even colour coverage, you are looking for an amber colour. This should take around 6-8 minutes.
As soon as an even golden amber colour is reached, reduce heat to low and add 1 cup of cream to the mixture. Using a spatula stir mixture continualy until it reaches 105 degrees celcius (using a manual or electric thermometer to check temperature). This takes approx a further 3-5 minutes. Once temp is reached, remove to heat and allow to cool.
The mixture will thicken on standing.
Strawberry Mallow sticks:
Thred 2 mashmallows onto a metal skewer, followed by a whole strawberry. Repeat until you have the desired amount or mashmallows and strawberries on the skewer.
Toast over open fire coals or on a lighly oiled grill, over glowing charcoal.
Allow mashmallows to toast to golden and remove from heat.
To assemble:
Take strawberry mallow sticks and place on platter.
Drizzle cooled gooey caramel sauce over the sticks.
Serve with a glass of bubbles and additional strawberries and warm gooey caramel sauce for dipping.